Robber Prevention Helmet by Students of SMKN 1 Purworejo
It is appropriate for students to study, while still young to take advantage of your young time to make achievements that benefit many people, do not be misused when young with brawls, drink intoxicating drinks or use drugs that will eventually trap your freedom in iron bars.
As a young generation positive actions must always be put forward by carving out achievements that can boast alma mater and parents. Carving achievements can be done in school or after graduating later is a commendable act.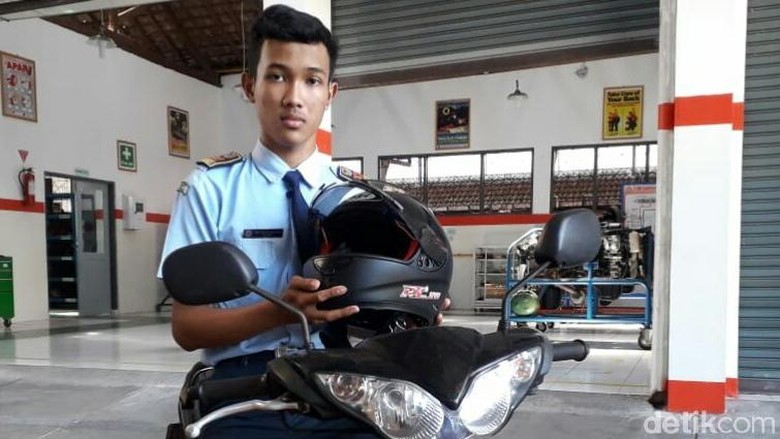 oto.detik.com
As was done by students at SMK 1 Purworejo, where two of their students managed to create a work that can provide security and safety for its users, namely the Anti Begal Helmet.
Are Two Students of SMKN 1 Purworejo Agung Budi and Gde Bagus created a safety helmet anti begal made since January 2018. This helmet is claimed to be connected to a motorbike, within a distance of about 50 meters, the helmet can turn off the engine and turn on the siren.
Is it true that the helmet anti begal is true and how it works, as stated by Tempo when he saw a live demonstration at SMK 1 Purworejo below:
Tempo saw this safety helmet demonstration at SMK 1 Purworejo, which was held there on Monday, September 24, 2018. One student became a victim of motorbike riding a motorcycle using a safety helmet anti begal that had been set.
Two students turned up with a gun and then seized the victim's motorbike. After the motorbike was successfully taken away, the victim pressed a button on the helmet and in a moment the motorbike died and turned on the siren to attract the attention of people around.
In his explanation the teacher of the Light Motor Vehicle Engineering (TKR) Supervisor at SMKN 1 Purworejo, Eko Wahyu said, the working system was made through a microcontroller programmed from a computer to adjust the system needed.
"This helmet will send radio frequency signals to motorbikes that have been adjusted to the program on the helmet, so that at a distance of about 50 meters, this radio frequency turns off electricity and turns on motorcycle sirens," he said on Monday, September 24, 2018.
To make achievements is not only limited to one work but there are still many other works that need to be created that are beneficial to the world of education, tourism, future technology and others that are the duty of students as the next generation of the nation, so that the state can be strong, sturdy and dignified in the eyes of the world.
Source: otomotif.tempo.co